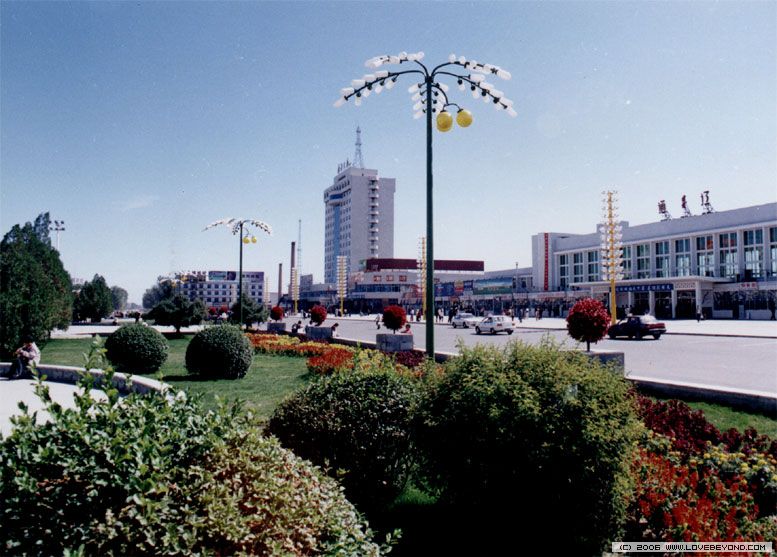 Population: 7,190,000 (Urban Population: 3,010,000)
Area: 13,472 square kilometers (5205 square miles)
Nationalities: Han, Man, Hui, Mongol
Administrative Division: 6 districts (Lubei, Lunan, Guye, Kaiping, Fengrun, Fengnan); 6 counties (Luan, Luannan, Leting. Qianxi, Yutian, Tanghai); 2 county-level cities (Zunhua, Qian'an); 4 development zones; 1 precinct; I industrial area
Location: Seated in eastern part of Hebei Province, the city is 180 kilometers (112 miles) east of Beijing, 120 kilometers (75 miles) northeast of Tianjin and 125 kilometers (78 miles) west of Qinhuangdao with the Bohai Sea 40 kilometers (25 miles) south of the Tangshan downtown. Tangshan neighbors Beijing, Tianjin, Liaoning, Inner Mongolia, Shanxi, Henan, Shandong provinces
Physical Features: Situated at the bottom of Yanshan Mountain's southern slope, the north of the city occupies mountainous areas, the central plain and the coastline of 199.3 kilometers (124 miles) to the south. Coal, iron, petroleum, natural gas, and salt make up the main natural resources.
Climatic Features: Enjoying a warm-temperate monsoon climate, the city is dry in spring, hot and rainy in summer, and chilly in winter. The average annual temperature is near 11C(51.8F), and its average yearly rainfall reaches 760 millimeters (30 inches).
When to Go: Summer and autumn are the beat seasons to visit - with the calm sea in summer, cool and pleasant weather in autumn.
History: According to archaeological discoveries, it was validated that this area was inhabited as far back as 45,000 years ago. It became a shire in Han dynasties (206BC-220AD) and obtained its name 'Tangshan' by the Dachengshan Mountain which was vouchsafed by the emperor in Tang Dynasty (618-907). Since Qing Dynasty (1644-1911), it has been an industrial center and was officially founded as a city in 1938.
Local Highlights: Ping Opera and Leting Drums Song (the most characteristic local operas); Tangshan Shadow Puppetry Play.
Special Local Products:
Handicrafts: shadow puppetry, willow knitting crafts
Foods: Jingdong chestnuts, Gushu golden thread small Jujube
Scenic Spots:

Eastern Qing Mausoleum: the most magnificent and well preserved architectural complex of Imperial Tombs of Ming and Qing Emperor with 15 catacombs
Jingzhong Mountain: a religious mountain well-known for its combination of Buddhist, Taoist, and Confucian buildings since Qing Dynasty (1644-1911).
The Great Wall under Water: a part of the Great Wall constructed in Ming Dynasty (1368-1644) in northern Tangshan City with several passes submerged under the water of Xifeng Lake
Mountains: Lingshan Mountain, Jiufeng Mountain
Universities in Tangshan