Overview of Tibet University
Since the founding of Tibet University (TU) in 1985, TU has become one of the most prominent universities in the country as well as the most comprehensive university within the Tibet Autonomous Region. with its main campus in Lhasa, Tibet University contains 14 academic schools with a student body population of approximately 9,000 students.
For more than 20 years, Tibet University has welcomed international students and scholars from abroad. Currently, Tibet University has established co-operative relationships with more than 10 international universities. Every year Tibet University hosts students and academic researchers from abroad. Current and past students have come from America, Australia, Austria, Canada, Estonia, France, Germany, Italy, Japan, Malaysia, Mongolia, the Philippines, New Zealand, Norway, Russia, Singapore, South Korea, Spain, Switzerland, and the United Kingdom.
International Programs
International students at Tibet University can either study Tibetan language and culture, or enroll in specific courses, including Tibetan music and fine arts. Tibetan music may include the study of Tibetan instruments or dance, and Fine Art courses include Thangka painting. The spoken Tibetan language courses at Tibet University emphasize teaching of the Lhasa dialect of Tibetan. Each semester Tibet University's International Students Department provides Tibetan language courses and cultural courses for international students at all levels of the Tibetan language spectrum, from absolute beginners to students with fluent or near-fluent Tibetan language abilities.
A.Language Courses
Basic Tibetan: These courses are for students who have no prior knowledge of Tibetan language. The courses include: Basic Tibetan Grammar Patterns, Spoken Tibetan and Practice (Lhasa Dialect), Basic Tibetan Written Grammar. Please note: Basic Tibetan courses are aided by English-language materials and Tibet University teachers using English and Mandarin Chinese to explain fundamental concepts of the Tibetan language.
Intermediate Tibetan: For students who have previously studied the fundamentals of Tibetan grammar and can read and speak basic Tibetan. The courses include Tibetan Customs, Spoken Lhasa Tibetan Texts, and Tibetan Written Grammar.
Advanced Tibetan: The courses include Contemporary Tibetan Literature, Sakya Aphorism, and Ancient Literature.
B. Arts Courses
Because the teachers have no or little knowledge of English, these courses are for students who already have some knowledge of the Tibetan or Chinese language. Courses are arranged according to the requirements of the students. Students must contact the International Students Department to inquire about the availability of courses before applying.
C. Cultural Courses
Cultural Courses for All International Students Including Tibetan Language and Fine Arts Student
The cultural course is open to all international students. While the content varies per semester, in the past the course has featured the following components.
Calligraphy: Introducing the original and aesthetic meaning of Tibetan characters for appreciation and the deep meaning of Tibetan calligraphy.
History and Culture: Introducing Tibetan culture and history through lecture presentations.
Tibetan Folk Songs: Learning and singing Tibetan traditional folk songs.
Thangka Painting: Learning the art of traditional Tibetan Thangka painting.
Culture Tour: Learning Tibetan culture through tours of significant locations around Lhasa guided by resident experts.
Fees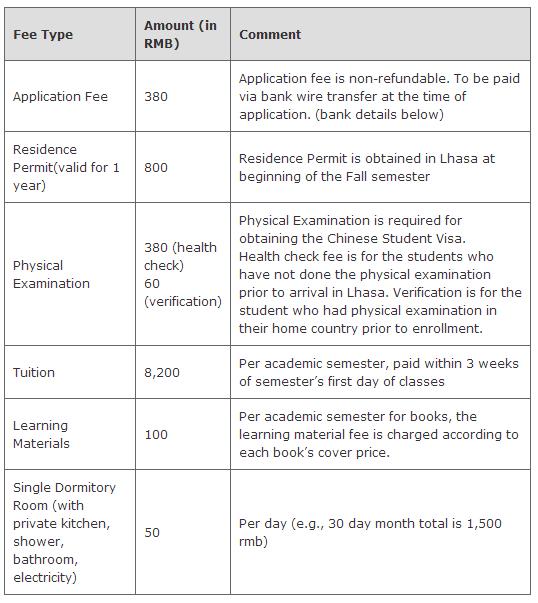 Contact information:
If you have any question please contact
Sally
Tel: 0086-571-88165697
Email:eduunion@cuecc.com
Skype:studycn001
QQ:2853662503