Location: Nanjing, Jiangsu Province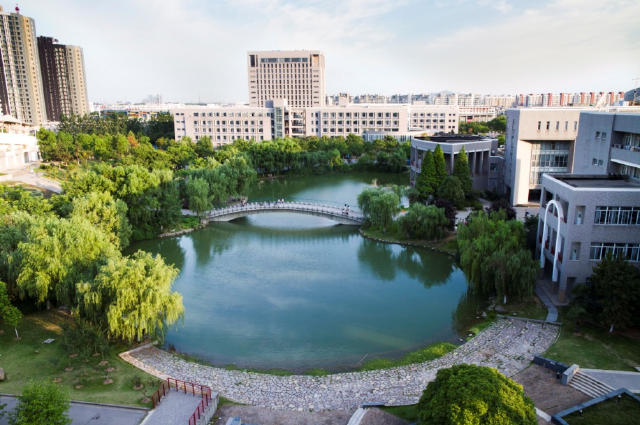 Introduction:
Situated in the old capital city Nanjing, this university has a one-hundred-year-long history and enjoys high prestige. As a key comprehensive university under the direct supervision of the Ministry of Education, it has upgraded itself with good momentum of development in hydraulic engineering and water resources as its main focus, education of engineering subjects as its first priority, and coordinated development of a wide array of disciplines covering engineering, sciences, economics, management, liberal arts and law, ranking among China's top universities in its teaching indexes and overall strength. Nowadays, it offers 12 post-doctorate programs, 66 Ph.D programs, 198 Master's programs, 18 Engineering Master's programs and the MBA program, and 54 undergraduate programs. In 2017, the discipline of Hydraulic Engineering and Environment Engineering were selected into the construction of "Double First-Rate" Discipline Plan.
Since the founding of the university in the early 20th century, it has been among the most active universities in carrying out international communication and cooperation and has built close relationship with many first-class universities and research institutes around the world, such as Arizona University US, University of Nebraska-Lincoln US, University of California Los Angeles US, Aberystwyth University UK, University of Science and Technology in Lillie France, Ecole De Mine Douai France, Technical University of Delft Netherlands, and University of Western Australia, etc. The format of cooperation includes faculty and students exchanges, joint research studies, joint degree programs, and bilateral and multilateral international conference, etc. In the global world, it is vigorously promoting international communication and cooperation in multiple fields and through multiple channels, raising its teaching to the international standards in every aspect.
Majors:
Bachelor Degree:
Chinese-taught:
Hydrology and Water Resources Engineering; Physical Geography and Resource& Environment; Water Engineering; Water and Hydropower Engineering; Harbor, Waterway and Coastal Engineering; Civil Engineering; Traffic Engineering; Environmental Engineering; Water Science and Engineering; Environmental Science; Ecological Engineering of Environment; Electrical Engineering and Automation; Automation; Energy and Power Engineering; Renewable Energy Science and Technology; Computer Science and Technology; Telecommunication Engineering; Electronic Information Engineering; Engineering Mechanics; Material Science and Engineering; Geological Engineering; Geodesy and Geomatics Engineering; Geographical Information Science; Agricultural Water Conservancy Engineering; Marine Science; Mathematics and Applied Mathematics; Applied Physics; Construction Management; Information Management and Information Systems; Financial Management; Marketing; Accounting; Human Resource Management; International Economics and Trade; Labor and Social Security; Broadcasting and TV; Land Resources Management; Law; English Language and Literature; French Language and Literature; Ideological and Political Education; Mechanical Engineering; Energy and Power Engineering; Metal Materials Engineering; Industrial Design; Telecommunication Engineering; Computer Science and Technology; Electronic Science and Technology; Automation; Internet of Things Engineering; Accounting; International Economics and Trade; Information Management and; Information Systems; Business Administration
English-taught:
Civil Engineering; Business Administration
Master Degree: English-taught
Hydrology and Water Resources; Hydraulics and River Dynamics; Hydraulics Structure Engineering; Water Conservancy and Hydropower Engineering; Harbor, Coastal and Offshore Engineering; Civil Engineering; Transportation Engineering; Environmental Science and Engineering; Electrical Engineering; Computer Science and Technology; Information and Communication Engineering; Engineering Mechanics; Material Science and Engineering; Surveying and Mapping; Geological Resources and Geological Engineering; Cartography and Geographical Information System; Agricultural Engineering; Mathematics; Enterprise Management; International Trade; Sociology; Public Administration; Resettlement Science and Management; Theory of Marxism; Mechanical Engineering;Information and Communication Engineering
Doctoral Degree: English-taught
Hydrology and Water Resources; Hydraulics and River Dynamics; Hydraulics Structure Engineering; Water Conservancy and Hydropower Engineering; Harbor, Coastal and Offshore Engineering; Civil Engineering; Environmental Science and Engineering; Electrical Engineering; Computer Science and Technology; Information and Communication Engineering; Engineering Mechanics; Civil Engineering Materials; Geodesy and Surveying Engineering; Geological Resources and Geological Engineering; Agricultural Engineering; Business Administration; Sociology; Resettlement Science and Management; Theory of Marxism; Information and Communication Engineering
If you want to apply, please contact Stella for more details:

Stella
www.cuecc.com
Tel: +86 17767072959
Wechat: StudyInChina1
QQ: 2853662501
What's App: +86 17767072959
Skype: study-in-china.org
Facebook/Instagram: Stella Cuecc
E-mail: eduunion@cuecc.com